Booktopia doubles productivity with 40% less staff
By any standards, award winning online book retailer Booktopia is definitely one of Australia's success stories.
It started out in 2004 as a quiet achieving private company, and since then, it has grown from a modest ten dollars per day 'family side project' to a staggering annual turnover in excess of $70m in the space of only 11 years.
Coming to grips with an annual growth rate of 30 per cent is a problem most companies can only dream of in today's industrial environment, however, the challenges of coping with this level of growth, from a logistical perspective, is never the less quite a formidable undertaking.
New warehouse management system boosts production
By putting together a project team that included, warehouse systems design company DCL, Sydney based specialist materials handling systems manufacturer, Adept Conveyor Technologies and Spectrum Automation, Booktopia was able to orchestrate a seamless transition from essentially a manual system of order picking into a facility that considerably boosted production and accommodated the growth levels now being experienced.
Since moving into to a new 10,000 square metre facility in Lidcombe NSW last year, four million dollars has been invested in phase one of a new system installation to improve efficient throughput by enhanced mechanisation of the process.
This new installation has taken the order picking throughput from 8,000 units per day, before Christmas 2014, to a new automated facility which now handles 16,000 units per day.
As you walk around the new facility you become aware of how much is being achieved and how streamlined and well managed the operation is, particularly when you take into account the level of activity that has taken place in recent months.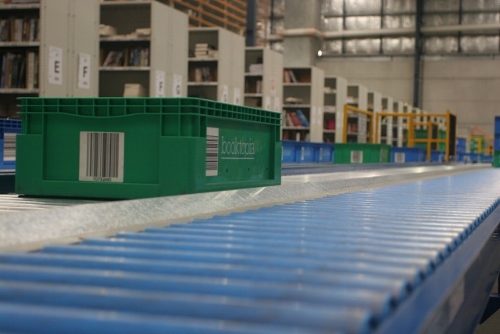 Leading automated warehouse technology
The nerve centre of the whole operation is a bespoke warehouse management system (WMS) designed by Booktopia and integrated with the logical functionality that drives the whole system.
Leading Australian materials handling company Adept Conveyor Technologies Pty Ltd were chosen as the approved manufacturer tasked with the responsibility to install the automated system and a network of conveyors consisting of gravity, belt, high velocity line shaft rollers and energy efficient 24VDC pulse conveyors which are programmed to stop if no tote traffic is detected.
Collectively this installation facilitates the constant flow of tote boxes to and from the pre-designated picking and packing zones.
An additional $3 million dollar Phase Two installation is already under consideration which is planned to accommodate anticipated future expansion and to become operational in 2016.
This structure will incorporate a second level 1,000 square metre mezzanine floor which will be bolted onto the existing system and serviced by integrated floor to floor inclined conveyors.
"Our responsibilities are not over once the conveyor installation is fully commissioned," says Adept's General Manager Jim Tzitziris.
"Regular servicing and spare parts availability for maintenance of the system, if needed, will ensure downtime is avoided when more demands are placed on the system over time."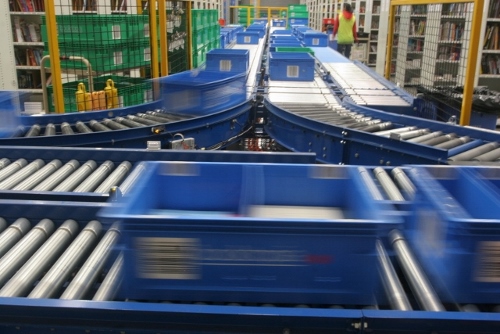 How it all works
The warehouse floor area is segregated into zones with 50 per cent of the stock in 9 metre racks and 50 per cent in low level racking. Red, green and blue plastic tote boxes are utilised to represent specific traffic zones by transporting books to their designated locations directed by bar code scanners strategically located on the conveyor system.
Three hundred units are picked per hour from the high rise racks utilising a scan reader gun. Three Crown wire guided order pickers fitted with one of ten Adept designed and manufactured steel "Cluster Pickers" which incorporates 15 tote box cells and a platform from which the operator can fill from the high rise racking.
Used cartons are managed by an overhead conveyor that transports the cardboard out of the warehouse, through a chute directly into a large recycling compactor skip.
According to Booktopia's Chief Operating Officer Phillip Haddad, the whole undertaking was carried out without holding up the normal day to day operations. In order to mitigate against any slowdown in service to our customers we needed to plan this transition very carefully. This was well managed by all the players but the conveyor system project management was particularly well engineered." he said.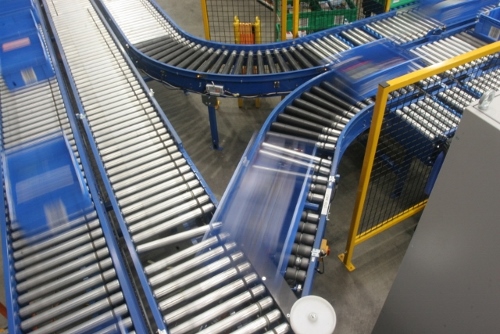 The future
Booktopia expects a ROI within 3 years and has now reached a stage where two-thirds of the original staff is able to run a system which produces an additional 50 per cent throughput of units per day.
What the future holds for Booktopia is anybody's guess but the way things are shaping up it is clear their success is well deserved and that there is a lesson to be learnt for all at a time where industry is somewhat apprehensive about capital investment in new systems.