How to remove, prevent and stop rust
Knowing how to remove, prevent and stop rust is a never-ending challenge. Rust is just one of those problems that won't magically go away by itself, and when its ignored, it slowly turns into a much bigger and more expensive problem.
In years gone by, when things started to rust, or when rust prevention was needed, it seemed the only way to slow it down was to get messy with the good old "Fish Oil and Lanolin", or "bitumen and tar paint", and a heap of elbow grease. Now I think everyone has fallen into this trap at some stage or another and yes, it's better than doing nothing, but there are better and more effective options out there…
Testing rust treatments that remove rust.
We recently did some testing on a few Australian Made rust removal treatments and the results were outstanding. The products tested from Rusted Solutions did exactly what the said they would do. When it comes to preventing, removing and stopping existing rust, there are only really two product lines to use: Rusted Solutions Rust Removers and Xtroll Rust Conqueror…
3 products tested to remove, prevent and stop rust.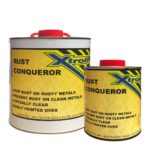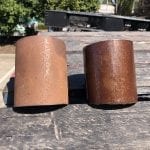 1. Xtroll Rust Conqueror is used to prevent and stop rust
Xtroll Rust Conqueror is used to prevent rust and/or to stop existing rust. The Xtroll was applied directly to the steel and left to dry… Xtroll successfully penetrates and stops rust.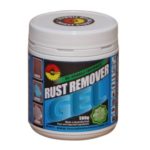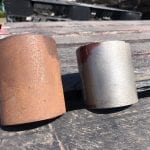 2. Rusted Solutions Rust Remover Gel is used to remove rust
The Rust Remover Gel was applied liberally to the steel, coating the entire surface. (Once applied the item could have been placed in a plastic bag to stop the gel from sliding off). Fairly soon the gel started to change colour from blue to green, as it started to remove rust. The pipe only required a light scrub down, and all the rust was removed.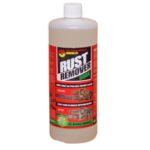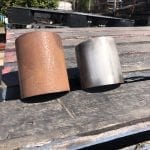 3. Rusted Solutions Rust Remover Liquid Soak used to remove rust
For this test we submersed the rusted pipe into the Rust Remover Liquid. And we didn't do anything else. It stayed there for about 3 hours and the pipe was then rust free
After the rust was removed, we painted the 2 clean pipes with the Xtroll Rust Conqueror, as they would have started to rust again quite quickly. Coating all surfaces with Xtroll Rust Conqueror has left the steel with a better-than-new look.
(We used the same piece of rusted steel tube to ensure identical test conditions. Note: The steel was not cleaned, and the products were applied directly, as per the instructions.)
It was very pleasing to see these Australian made products were put to the test and actually deliver the results.