How to hand wrap a pallet and addressing OH&S issues
Hand Wrapping a pallet seems such an easy thing - but there are simple instructions and products available that if followed or used can reduce Occupational Health and Safety issues.
Hand Wrapping a pallet is easy, but it's very important to consider the physical 'how' it's done and what options are available to us to assist our staff in avoiding potential back problems or other physical issues related to hand wrapping pallets.
So How Do I Hand Wrap a Pallet?
Start by attaching the stretch wrap to either the pallet it may be on or by lodging it between layers of goods at the bottom of the load.
As the tack of the stretch wrap is on the outside layer ensure the film is applied with the tack against the load. Using a pre-stretched pallet or stretch wrap reduces the intensity of pulling or stretching required by the handler as it has already been pre-stretched.
Starting at the base of the load your first wrap should have a 3 inch overlap and then be wrapped a couple of times to ensure maximum strength and stability. Each subsequent wrap should spiral upwards ensuring each wrap covers at least 50% of the previous wrap. It is best practice to walk in a forward motion around the pallet using your forward momentum as opposed to a backward pulling motion. This assists with avoiding back pain or injury as well as avoiding tripping obstacles.
When the top of the load is reached then, like the first wrap, there should be an approximate 3 inch overlap, once again to ensure strength and stability. Then follow back down the pallet to complete the wrap. Cut the stretch wrap at least 300mm past the corner and then tuck in or simply wipe the film back onto itself.
Additional Hints:
Tension is applied to the corners of the pallet as opposed to around the entire pallet. Rather than using brute arm strength simply take a side ways step around the corner without releasing tension of the stretch film. Then when moving around the sides release the tension allowing the film to unwind freely.
Optional Extras that reduce bending
Most simply, make sure your goods are loaded onto a pallet. This raises the load slightly off the ground thereby reducing how far you need to bend.
Make use of a Long Handled Pallet Wrap Dispenser which assists in reducing the depth of bend required.
Make use of a Pallet Lift Elevator to raise your pallet loads thereby reducing the need to bend.
Make use of an Electric Turntable which eliminates the need to walk around a pallet. Its similar to a pallet wrapper, but without the mast and film carriage.
Use Pallet Shrink bags instead of stretch wrap. These are a heavy gusset bag designed to fit a pallet load of goods. Simply put over your load and use a gas gun to apply heat and allow the bag to shrink and snugly form fit your pallet.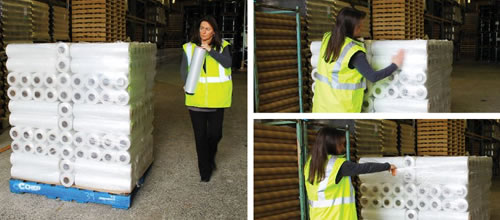 Contact Get Packed directly for more information on any goods that can reduce your OH&S risks associated with hand wrapping pallets. Alternatively have a look at our range of Pallet Wrapping Machines. We have a range of machines to suit most budgets.