This allows for in-depth Readings and Work Order History to be recorded making it easier to see and track their whole life in complete detail and costs. This also makes assigning Rotables to particular assets as easy as dragging and dropping them to their new parent in the Asset Register. Individually serialised Asset's need to be entered this way if you want to track their history, thus knowing where the Asset is located and how it's being used.
Note that a Rotable Asset is not the same as a Catalogued Item you would use a catalogued item if it was a new part, not a rebuilt part.
Let's cover some of the modules in MEX and how you can handle Rotables within these modules.
Readings
Readings against Rotable assets are simplified through the update components functions available in the readings module. In a nutshell this feature allows you to enter readings against the parent Asset and have the component Assets updated through the readings. Because it adds the difference in readings to the components, it allows you to accurately track the readings against the components even if there is no meter on the component. This way you can track the whole life of readings for the Rotable (component) Assets and it's even possible to reset the Rotable's reading to '0' if you need to track by way of readings at what point it was rebuilt. You can read more information about reading components in the updating component readings in MEX Blog article.
If you intend to use this function it would be a good idea to enable it by default through the Control files, this will ensure the option is always enabled and component readings are not missed due to user's not knowing about the function or forgetting to enable it. It can be turned on under Control Files > General and under enable the option "Update Reading Components" under the heading "System Options".
Entering a reading on Parent Asset

Subsequent reading entered on component

Preventative Maintenance
In MEX Preventative Maintenance, schedules are set up based on an asset in the asset register, setting Rotables up as assets allows for them to have their own service schedules independent of the asset they are attached to. When you combine this with the update components function it allows you to easily track the servicing requirements of sub components as Rotables just by tracking the parent hours, kilometres or any usage based reading.
Aside from scheduled maintenance, Standard Jobs can be used to raise a Work Order at any time that could be for rebuild/refurbishment of the Rotable Asset. The example shown on these pages represents an electric motor needing the bearings replaced.
History and Work Order information
Work Orders in MEX are attached directly to an Asset from the asset register. This will work the same as Work Orders against any other asset in MEX and it makes keeping track of work done or to be done as simple as checking the Work Order or history tabs through the asset register.
Tracking where Rotables are installed
A complete history on what an asset has been assigned to is available at any time through the "Movements" tab in the Asset Register. When moving the assets around in the asset tree it will prompt you to enter the time it was moved and a reason. This information can be used to determine where an asset was being used at any time where the movement was recorded in MEX.
The process for moving assets is really simple, you can either drag and drop the asset to its new location or right click and select "Move Asset" and select the new parent location.
Move Asset function (note the Drag and Drop option)

Select the Parent where Rotable will now move to

From here just enter the reason for the move, and process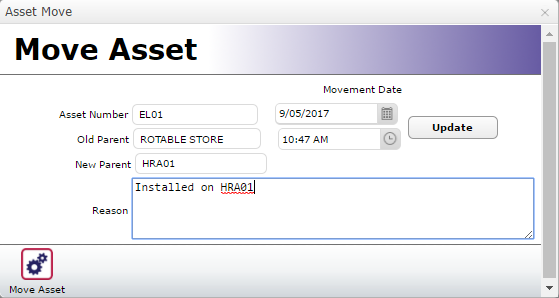 Asset Register after moved performed, showing 'Movements' of EL01 Asset. You can now look back at this record and others like it to see where the asset was at any given time;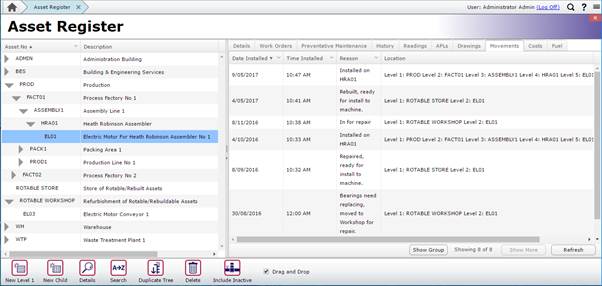 Summary
The complete overall process of managing Rotables is quite straight forward and there is no limit to how often it is done. A key note is that All information such as Readings, History Work Orders, Maintenance Policies and more stays with the Rotable Asset and is never lost, along with being able to see the Movement history. Many companies commonly perform this action, particularly in manufacturing, mining and transport, with some just having Rotables as an Asset and some choosing to have Rotable Store and Workshop.
For further information, please contact us.