IndustrySearch: What do you see as the main advantages of your Westech brand of trays?
Joe Kelly: For ease of explanation, I will refer firstly to the 'traditional' style of Westech tray which is our original core Westech product.
Each Westech body is custom designed for a specific mine application, ensuring that the designs achieve maximum payload potential and are highly reliable. We have numerous products which have outlasted the original chassis, normally expected to be between 60,000 and 70,000 operational hours.
In some cases, on sites where there is a clear understanding of application requirements, Westech are able to design a tray to perform a specific duty and become redundant after a fixed time period. This may be to suit a specific contract or mining condition where there is a requirement to haul the maximum amount of material on a short term basis (usually around 30,000 hours).
At other times, a circumstance may arise which may present the opportunity for a radical new design concept to be developed. Such was the case when it was noted that during the discharge of material from large volumetric capacity trays the truck became unstable with the front wheels potentially leaving the ground. This could result in damage to the truck and possibly injure the driver. The patented Westech Flow Control design was developed to alleviate this problem.
When the Flow Control design was launched it was quickly found that in addition to resolving the original problem, other additional benefits were delivered. These benefits included reductions in abrasion wear to the floor plates, reduction in maintenance costs to ROM bin infrastructure and noticeably less dust occurring during the tipping cycle. This is a classic case of good engineering delivering a myriad of benefits.
What sorts of challenges can companies face in transporting loads within a mining environment?
Although each mine differs in any number of ways, some things are fairly constant, such as, they are invariably located in remote areas. This means that any failures, be they mechanical or design based, become exponentially more difficult to rectify.
By nature, the mining environment is quickly impacted by changes in conditions i.e. even a moderate amount of rain will cause the haul roads to become unsafe. For this reason the controlled application of dust suppressing water is essential.
Most mined materials tend to follow contours in the strata as a result of geological movements; this can result in extremely steep gradients, which requires the tray to be designed with 'free board'. Free board adds additional height or length above the load area to reduce spillage when negotiating gradients. The steeper the grade the more freeboard is required.
The fragmentation of material (how big the lumps are) and how abrasive it is can greatly affect the efficiencies of the tray. The large lumpy blocks of 'hard' rock landing from height have the potential to cause serious damage to steel floor plates and the supporting bolsters.
In addition, abrasive material running over the plates will result in accelerated wear. These conditions need specific design features to be designed into the body from new and are extremely difficult to introduce as a retrofit feature.
What considerations should a company have when looking for a tray to suit a specific job?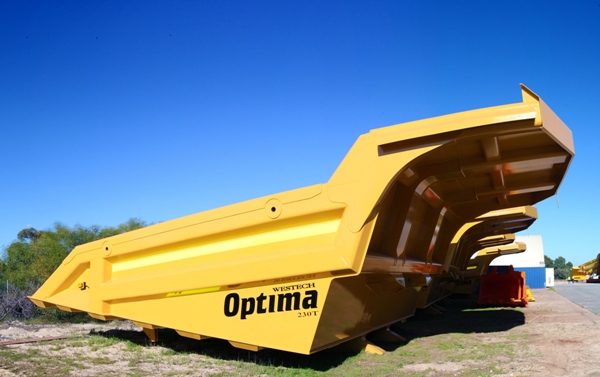 In striving for cost savings and increased productivity, some operations are prepared to sacrifice potential maintenance costs for clearly understood additional revenue by way of increased payload.
To obtain a successful outcome, it's imperative that the customer communicates exactly what they require to the supplier. For example, detailing whether payload or maintenance is the key consideration. This enables the body designer to engineer a balance of requirements to produce a satisfactory outcome.
Other considerations should include:
Does the manufacturer have a relationship with the truck OEM? And are tray approvals required to maintain warranty on new trucks?
Does the manufacturer have 'in-house' design capability?
Are the steel materials used in manufacture readily available and 'non' exotic to allow in-field maintenance?
What experience do they have in specific mining areas? E.g. there are big differences between transporting bauxite in the tropics, oil sands in the frozen north and coal overburden in Australia.
Does the manufacturer have the financial strength to complete the project within the required time frame without progress payments?
How do you see this technology developing or evolving in future?
We have invested heavily in computerised design software and undertake discrete element modelling of our designs before release to the market. This will continue in order for us to fine tune our products.
There are a number of exciting things on the drawing board, including the introduction of radical ideas in both materials and applications, e.g. flow control for overburden/rock bodies and the introduction of replaceable floors in our JEC body designs. We are also looking at innovation in the treatment of 'carry back.' So, the future is looking bright in terms of product development.