DIFFERENCE BETWEEN TRADITIONAL AND COLLABORATIVE APPLICATIONS
Traditional Robotics Applications
Big batches / product runs
Little product variability
Complex programming during development and for new products
Minimal adaptability (at least not without substantial costs)
Unable to work safely with a human without substantial safety systems
Complex deployment
Relatively expensive
Typically used by large manufacturers
Collaborative Robotics Applications
Lower volume product runs
Capable of high product diversity
Comparatively fast and easy deployment
Easier to programme, including Lead to Teach on basic applications
Relocatable - adapts to changing business needs or multiple deployments
Generally lower cost
Adaptability of End of Arm Tooling
Ideal for any manufacturer
Collaborative Robots
Collaborative robots (cobots) are ideal for manufacturers with low-volume, high-mix production or who need to safely automate processes alongside human workers. That might include automating a repetitive task and handing a part off to a human for inspection or to complete a complex assembly process.
Cobots typically have lower upfront costs and are easy to program with no previous experience, so they offer a much faster ROI. They are small and lightweight enough that they can be easily moved and redeployed to automate different processes throughout a manufacturing or processing facility. These versatile, cost-effective, and user-friendly tools allow businesses of almost any size (and any level of technical expertise) to increase productivity, improve quality, and respond more nimbly to changing customer demands.
An important consideration - cobot End-of-Arm Tooling
The differences between traditional robotic applications and collaborative robot applications highlights the critical End of Arm Tooling (EoAT) decisions that will impact your automation and business success.
If you're looking into collaborative automation, EoAT is key to optimising your processes and growing your business with greater flexibility, higher output, and improved quality. The EoAT becomes a critical element of getting the most out of your collaborative robot. These tools are designed for safety around human workers and to be easy to program through the robot's control interface. They're cost-effective, highly flexible, and easy to change for different processes to support fast ROI and quick results.
If you're leaning toward collaborative robotics, it's important to consider EoAT to make sure you optimise your investment and gain the full advantages of your cobot.
Business Benefits of Collaborative EoAT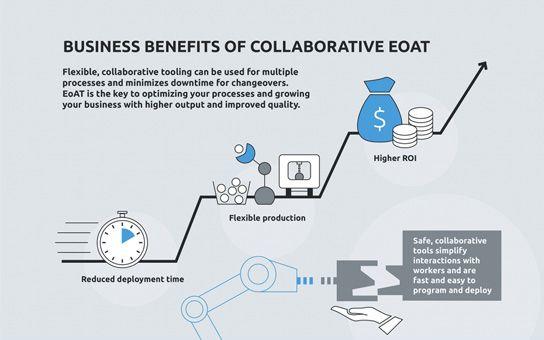 Flexible collaborative tooling can be used for multiple processes and minimises downtime for changeovers. EoAT is critical to optimising your processes and growing your businesses with higher output and improved quality.
Coupled with an appropriate collaborative robot, safe collaborative EoAT simplify interactions with workers and are fast and easy to programme and deploy.
Australis Engineering - informing your automation decisions
Australis Engineering are uniquely placed to assist your business with its automation decisions especially with the consideration of robotic applications. Australis have formal partnerships with some of the worlds largest and industry leading robot, collaborative robot and EoAT manufacturers.
Techman Robot - certified Australian distributor
ABB Robot - certified robotics partner
OnRobot - certified Australian partner
Alusic - exclusive Australian distributor of Carbo6 carbon fibre profile for EoAT applications
In addition to these formal partnerships, we have a strong supply chain of global and innovative robotic and automation suppliers including Omron, SMC, SICK, ifm, SEW, KUKA and Motoman.
We don't just have access to these products, smart thinking means we stay on top of industry innovation and new trends. We routinely travel the globe attending international trade exhibitions educating ourselves about the latest in robotics and automation technology so we can bring this knowledge and new products to our customers. Since 2017 we have been to trade shows in Australia, Germany, Thailand (twice) and Taipei investigating the latest automation and robotics technology.
How does this help? We can access multiple types of traditional and collaborative robots and EoAT technologies to ensure our customers receive the best solution for their application.
OnRobot - innovative End of Arm Tooling
With regard to EoAT technologies, our partnership with OnRobot means we can offer customers the full range of innovative EoAT for all major collaborative and light industrial robots. Contact us for more information or advice on the best option for your application.
Collaborative robots from ABB and Techman Robot
Australis benefits from its partnerships with both ABB and Techman Robot in being able to offer customers the ABB Yumi collaborative robots or the Techman Robot TM Series of cobots. (Note the TM Series by Omron are simply private label cobots provided by Techman Robot). These different collaborative robots offer various benefits and choosing the right one for the application and pairing it with the appropriate EoAT is critical to ensuring strong automation outcomes for your business.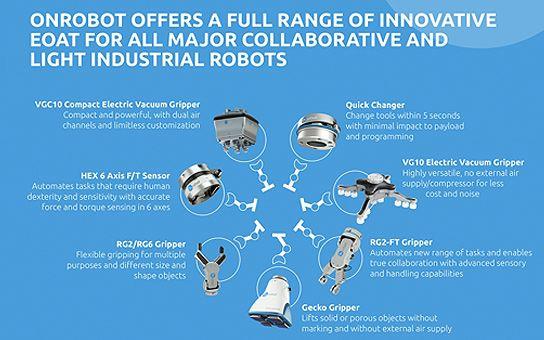 Contact us to discuss the best cobot for your process.
[Adapted from OnRobot blog, 9/3/2020]