Fast installation for the Heidelberg Cementgroup
The company is synonymous for competence and quality in the fields of cement, sand, gravel and ready-mixed concrete. Using modern technology and innovative production processes, this leading building material producer guarantees the high performance of its individual plants.
It is not for nothing that the Heidelberg Cementgroup has relied for decades on the expertise of the BEUMER Group. This globally active specialist for intralogistic solutions based in Beckum, Germany, has installed numerous conveying systems for the Cementgroup. With the production and installation of a tubular belt conveyor for PT Indocement Tunggal Prakarsa in Indonesia, which is part of the Heidelberg Cementgroup, the BEUMER Group has once again demonstrated its market leadership in this area.
As member of the World Business Council for Sustainable Development (WBCSD), environmental protection plays a central role in the corporate strategy of the Heidelberg Cementgroup. The building material producer has taken up the cause of reducing CO2 emissions through optimised production processes and the use of alternative raw materials and fuels.
This is similarly the case for the plant of PT Indocement Tunggal Prakarsa, which since last year has been supplying its seven kiln lines with alternative fuels. For this reason, a tubular belt conveyor had to be installed for transportation from the warehouse to the kiln. A challenge was to integrate the conveyors into the existing plant arrangement. It was necessary to bypass the silos and equipment existing in the plant without causing any disruption.
Optimal route adaptation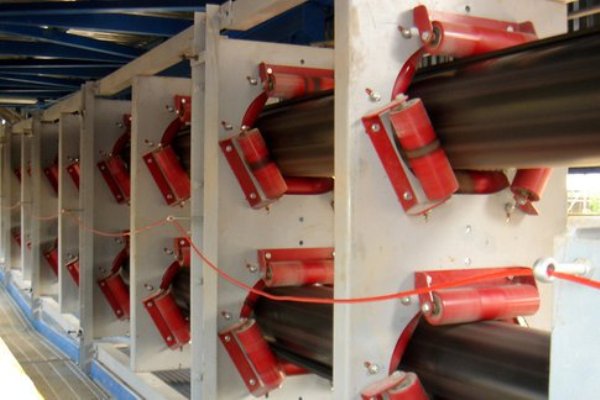 Owing to the extreme angle of inclination of up to 22 degrees and the type of material to be transported, PT Indocement decided for the BEUMER 300 tube belt conveyor.
Optimal adaptation of the route to the topographic situation is made possible thanks to the closed conveying system design. The extreme angle of inclination is also reliably negotiated.
In addition, the material to be conveyed are totally enclosed and transported dust-free. BEUMER Group technology is based on many years of experience in the field of conveying systems, tried and tested machine technology and a special belt design.
The BEUMER Group received the order for the production and installation of the tube belt conveyor in December 2006. Based on the BEUMER Group specifications, a large part of the entire plant was able to be produced locally in Indonesia. The plant was installed and commissioned on time in August 2007.
In the meantime, it transports about 200 tonnes per hour. The conveying speed is 1.35 metres per second. In order to avoid overlapping horizontal and vertical curves, BEUMER Group designed the curves individually. As a result, three horizontal curves and two vertical curves were used at a centre distance of 340 metres and a difference in height of about 90 metres.